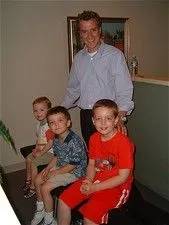 Dr. John Glenn completed his undergraduate studies at East Stroudsburg University before earning his Doctorate degree in Chiropractic from Sherman College of Straight Chiropractic in Spartanburg, SC.
"It gives me great pride to help others get out of pain and regain their health. It is as if I am giving them the chance to get back into the game again."
"I take a genuine interest in my patient's care. Our office focuses on the total health of the individual, not just the integrity of the spine. In addition to chiropractic care we offter our patients nutritional counseling, trigger point therapy, wellness and other alternative health care techniques that enable them to improve their health and that of their family naturally."
Constantly striving to give his patients the most-up-to-date care possible, Dr. Glenn attends many post graduate seminars including such topics as spinal correction and rehabilitation.
Professionally, Dr. Glenn is a memeber of the New Castle County Chamber of Commerce, World Children's Wellness Foundation, and the Foundation for Wellness Professionals.
Dr. John and his wife Dr Jimmie, also a chiropractor, reside in Hockessin, DE.